Science
Our new science topic for the summer term is Identifying Materials and their Uses.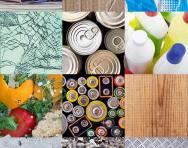 Have a look at some of your toys. Do you know what material they have been made out of? What about your clothes, your shoes and your furniture? Why do you think that material has been chosen?
Last half term our Science topic was Habitats.
The children have looked at the different habitats of people and animals and understand that animals do not choose where to live, but live in places that provide them with everything need. We have talked about large habitats such as jungles, forests, deserts and have searched for mini beasts in the wild area.
Y1/2 your challenge now is to:
Search for signs of life in your garden or yard if you have one.
Make a list of all the creatures you find eg spiders, beetles, worms, woodlice and evidence of where they have been eg birds' nests, spider webs, nibbled leaves! Record how many of each creature you saw. If you have a camera take photos.
Year 2s make a tally chart and a pictogram of your findings
Choose your favourite animal and draw a picture of it in its habitat. Don't forget to include everything it needs eg food, water, shelter
Missing you all!
Mrs Hickey x
Here are some more ideas for science home learning:😀

SPRING
Of course, it is just typical that the weather has now decided to be GLORIOUS. Spring is here for sure, so just a reminder of a few websites and ideas for spring science. If you are getting outside, please follow the guidance about where and how you can safely go.
https://www.lookwerelearning.com/spring-science-ideas/
https://inspirationlaboratories.com/the-sunday-showcase-spring-science-ideas-for-kids/?utm_source=dlvr.it&utm_medium=twitter
https://www.bbc.co.uk/teach/class-clips-video/science-ks1-ks2-seasonal-changes-behaviour-animals-growth-cycle-plants/zfynvk7
https://www.bbc.co.uk/teach/class-clips-video/science-ks1-ks2-ivys-plant-workshop-classifying-and-grouping-plants/zh9jvk7

If you need some practical, hands on science, have a look at these ideas from the CREST awards, which are simple and easy to resource.
https://primarylibrary.crestawards.org/all-star-challenges/61746949

Another favourite website for quick and easy science is Science Sparks. Have a look…
https://www.science-sparks.com

Turning your home into a science lab will delight your children. Here at the Royal Institution: Science, they have all the ideas you will ever need. A series of short films which make it fun, easy and cheap to do science experiments at home with your children.
https://www.rigb.org/

Celebrity Scientists have been doing their bit in these uncertain times too and the links below take you to some programmes all to do with science.

Professor Brian Cox, Robin Ince & guests https://cosmicshambles.com/

And all things animals and habitats with Steve Backshall live Q and A sessions on Twitter @SteveBackshall or have a look at his web page
http://www.stevebackshall.com/

Here are some other fab Twitter accounts and websites all about home learning in science. PLEASE DO TRY THESE AT HOME!

Chester Zoo: @chesterzoo www.chesterzoo.org/tozooathome
STEM Learning: @STEMlearningUK www.stem.org.uk home learning
Academy of Natural sciences: @AcadNatSci www.ansp.org
Emma Bothma: @MrsBpriSTEM Different challenge each day.
Dr Chips: @DrChips_ https://drchips.weebly.com/ a daily online lesson

Have fun with science and stay safe.